National Symposium on Medical Ethics
Symposium Dates :

February 12-13, 2004

Total Participants
339
Symposium Venue

Dr. Balasaheb Vikhe Patil Rural Medical College
At. Loni, Dist. Ahmednagar,
Maharashtra State, India, Pin- 413 736
Tel. +91 2422 273600 / 273486
Organised By
Medical Education Technology Cell of
Dr. Balasaheb Vikhe Patil Rural Medical College ,Loni

Organised in Collaboration with


International Association of Agricultural Medicine
and Rural Health - IAAMRH
Asian Chapter of IAAMRH

Symposium Secretariat
Dr. Balasaheb Vikhe Patil Rural Medical College ,Loni
Pravara Medical Trust
Loni-413736
Dist:Ahmednagar (Maharashtra State)
India.
Tel: +91-2422-71756
Fax: +91-2422-73413
Email:contact@pmtpims.org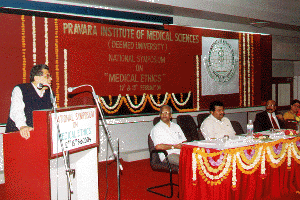 Chief Guest Honr'ble Dr.Ravindra Bapat, vice Chancellor, MUHS, Nashik
Objectives
To enhance the knowledge and attitude of the professional code of ethics in education, research and practice, Pravara Institute of Medical Sciences (Deemed University) and the Medical Education Technology Cell of Dr. Balasaheb Vikhe Patil Rural Medical College had organized a National Symposium on Medical Ethics.
Executive Summary of the Symposium
The symposium was cosponsored by Medical Council of India, New Delhi and Pravara Medical Trust, Loni. The symposium was inaugurated by Hon. Dr. Ravi Bapat, Vice Chancellor, Maharashtra University of Health Sciences, Nasik. Eminent National and International experts Dr. Ravi Bapat, Vice Chancellor, MUHS Nasik, Dr. Avinash Supe, Director School of Training MUHS Nasik, Dr. Medha Joshi, Director, Dept of Medical Education, MSR Medical College, Bangalore, Dr. Sorab Sadri, Director, Dr. Vikhe Patil Foundation, Pune, Dr. Elisabeth KF Hamrine, Sweden, Dr. LeifAthlin, Sweden, Dr. Elsy Athlin, Sweden and Dr. Laura Wolowicka, Poland shared their wide experience in this field.
Total 339 faculty members and PG students attended the symposium. The program was evaluated by the participants immediately after the lecture. All of them have strongly recommended regular deliberations covering ethical and legal aspects in Medical Education and Health care system.