Erasmus Mundus Collaborations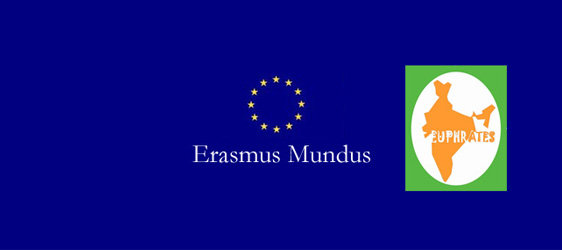 EUPHRATES (Erasmus Mundus Action Plan 2 Project)
European Full Scholarship Programmes - EUPHRATES, (Erasmus Mundus Action Plan 2 Project) are available for the Indian students, faculty, staff and administrators to undertake undergraduate, Masters, PhD, Post Doc programs and staff exchange for PHASE 1. A total of 140 scholarships are available for Indian students.
Pravara Institute of Medical Sciences - Deemed University is one of the third country partner university in the consortium of 20 universities (details enclosed). Consortium is made up of 20 universities, 11 Universities in India and another 9 in Europe (Spain, France, Germany, Greece, Lithuania, Ireland, Poland, Portugal, Slovenia, Spain). The University of Santiago DeCompostela, Spain, is the lead university of the consortium.
Beneficiaries
This project involves
mobility from India to Europe
. Candidates belonging to one of the following target groups can be selected for an ERASMUS MUNDUS EUPHRATES grant:
Target Group 1 (TG1)
: Students and Academic Staff registered in one of the partner universities belonging to the consortium. Undergraduate students must have successfully completed at least one year of studies in their home institution;
Target Group 2 (TG2)
: students need either to be registered in or to have obtained a university degree or equivalent from a HEI in India (not included in the partnership)
Target Group 3(TG3)
: Nationals of India in a particularly vulnerable situation due to social or political reasons as specified by the EMA21 Call.
The total number of grants, including all levels of study and whole duration of the EUPHRATES Programme, is of 140
The expected number of scholarships during the 1st Cohort is the following:
Undergraduates: 16
Master: 18
Doctoral Studies: 18
Postdoctoral Studies: 6
Staff: 10
Amount of the grant
EUPHRATES includes travel and insurance costs and a monthly allowance of:
1.000€ for Undergraduate and Master
1.500€ for Doctorate
1.800€ for Post-doctorate
2.500€ for Academic Staff
Duration of the mobilities
Undergraduate: 6 and 10 months
Master: 6, 10, 18 months
Doctorate: 12, 22, 33 months
Post doctorate: 6, 10 months
Academic Staff: 1 month
Priority Study Areas
Fields of study for this project: Agricultural Sciences, Engineering and Technology, Medical Sciences, Natural Sciences.
Academic Recognition
Participating in EUPHRATES ensures the mutual recognition of all credits performed in partner institutions within the consortium.
---
EUPHARATES - ERASMUS MUNDUS, India to Europe Mobility
European partners:
Universidade de Santiago de Compostela, Technological Educational Institute of Patras, Vilnius University, Universidade do Porto, University of Maribor, University of Perpignan, University College Dublin, Freie Universitat Berlin, Germany, Warsaw University of Life Sciences
Indian Partners:
Dr. Babasaheb Ambedkar Marathwada University (Co-coordinator), National Institute of Technology, Warangal, Kalinga Institute of Industrial Technology University (KIIT), Indian Institute of Technology Guwahati (IITG), University of Baroda, Central University of Orissa, Pune University, Swami Ramanad Teerth Marathwada University, IIT Bombay, Pravara Institute of Medical Science, Doon University