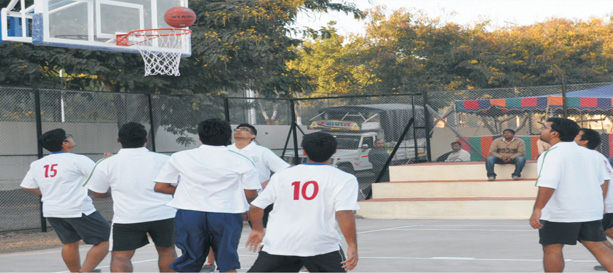 Board of Sports & Cultural Activities
The PIMS Sports Board shall be the principal sports promotion Advisory Body of the university and the Rules and Bye-Laws shall be responsible for the Sports promotion through development of sports infrastructure, participation in sports at grass-root levels as well as excelling at National/ International Sports Tournaments.
The University Board of Sports came into existence in the year 2011. The objective of the Board of Sports is to promote, organize and conduct sports in the PIMS (DU) area. It aims to foster team spirit and sportsmanship of the players; to inculcate & enhance a sense of discipline and the spirit of true sportsmanship; to undertake and conduct intercollegiate inter-Zonal, inter-University tournaments of sports and Cultural activities from time to time.
Members of Board of Sports and Cultural Activities

---

Chief Patron


Dr. Rajendra Vikhe Patil



---

Chairman

Dr. Y M Jayraj
Vice Chancellor

---

Member
Two Nominees of Board of Management

Shri. Panjabrao Aher Patil
Dr. Ravindra Karle


---

Member
Two outside Expert

Dr. Deepak Mane
Director, Dept of Sports, Pune University, Pune

Mr. Patel A.D.
Physical Director, P.V.P. College, Loni

---

Member
Representative from the Institutions nominated by the V.C.

AVM (Retd) Dr Rajvir Bhalwar, Dean , Rural Medical College)
Dr. Vidyasagar, (Principal, Rural Dental College)
Dr. Mahendra Shende (I/c Principal, College of Physiotherapy)
Dr. T. Sivbalan (Principal, College of Nursing)
Dr. S. P. Kamble(Director, Centre for Biotechnology)
Prof. K.V. Somasundaram (Director, Centre for Social Medicine)


---

Member
Student representative

Miss. Harshada Gondhali
Mr. Unaiz Kalsekar

---

Member-Secretary


Mr. S.S. Bular
Asst. Director of Sports & Cultural Activities
Aim Of The Pims Board Of Sports
The aim of University Board of Sports is to promote activities in the field of Games and Sports and Cultural Activities with excellent infrastructure facilities and also to provide a systematic and scientific training for the students of affiliated colleges.

Objectives of the PIMS Board Of Sports
To annually organize PIMS University / Inter institute competitions in specified games and sports and Cultural Activities for the students.
To review the progress on developing, maintaining and optimally utilizing sports Infrastructure
To advice on promoting excellence in sports by encouraging participation in National and International championships in large numbers.
To advice on creating a culture of sports by imbibing higher moral and ethical values, spirit of comradeship and the desire to excel.
To recognize talent in sports and reward young women and men, who achieves excellence in sports
To organize workshops, seminars on sports related matters.
Arrange sports events for staff members
To get associated and affiliated to recognized sports associations
The Powers And Functions Of The Board Of Sports & Cultural Activities
To have an overall control over the conduct of Inter Collegiate, Inter-Zonal tournaments / competitions;
To decide the various Inter-University tournaments in which the University teams should participate;
To appoint sub-committees and such other committees, as it deems fit and to assign duties to them and to take appropriate decisions on the recommendations of such committees;
To appoint Organizing committee and such other sub- committees to conduct Inter University and other tournaments and cultural activities.
To prepare the annual budget for presentation to the Board of management
To appoint coaches and managers for various university teams
To allot suitable funds to the college for organizing Inter-Collegiate tournaments
To organize coaching projects for the uplift of standards of different games and Cultural Activities.
To adjudicate on all appeals against the decision arising out of the conduct of tournaments
To supervise advise and make suggestions to colleges and committees regarding promotion and conduct of Sports, and Cultural Activities
To do all such other acts which are incidental and conducive for the attainment of the objects of the Board of Sports and Cultural Activities.
Responsibilities And Duties Of Director Of Sports & Cultural Activities
To promote, organize and control Sports and Cultural Activities in the University area.
To inculcate and enhance sense of discipline and spirit of true sportsmanship
To undertake and conduct Inter-Collegiate. Inter-zonal, Inter-University and such other tournaments as may be decided by the Board of Sports and Cultural activities from time to time.
To foster team spirit sportsmanship amongst the players.
Indoor Sports Facility
Boy's Hostel
| | | |
| --- | --- | --- |
| Sr. No. | Facility Available | Nos. |
| 1 | Table tennis | 01 |
| 2 | Carrom | 02 |
| 3 | Chess | 03 |
| 4 | Open cemented badminton court | 01 |
| 5 | 6 station multi Gym unit | 01 |
Girl's Hostel
| | | |
| --- | --- | --- |
| Sr. No. | Facility Available | Nos. |
| 1 | Table tennis | 01 |
| 2 | Carrom | 02 |
| 3 | Chess | 02 |
| 4 | Badminton Court covered | 01 |
| 5 | 9 station multi Gym unit | 01 |
RMO Hostel
| | | |
| --- | --- | --- |
| Sr. No. | Facility Available | Nos. |
| 1 | Carrom | 01 |
| 2 | Chess | 02 |
| 3 | 16 station multi Gym unit | 01 |
Boys Hostel - Shankala
| | | |
| --- | --- | --- |
| Sr. No. | Facility Available | Nos. |
| 1 | Table tennis | 01 |
| 2 | Carrom | 02 |
| 3 | Chess | 02 |
| 4 | 6 station multi Gym unit | 01 |
Doctor's club
| | | |
| --- | --- | --- |
| Sr. No. | Facility Available | Nos. |
| 1 | Table tennis | 01 |
| 2 | 6 station multi Gym unit | 01 |
---
AIU revised FISU Eligibility Rules for participation of students in National & International Games with effect from 2013-2014 onwards