Feedback Committee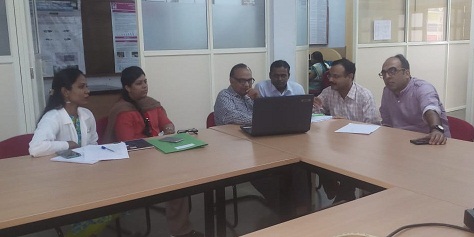 University Level Feedback Committee
Co-Ordinator
Dr. D. B. Phalke
Member Sercretory - Rural Medical College
Dr. S. M. Jain
Member Sercretory - Rural Dental College
Dr. Harish Saluja
Member Secretory - Dr.A P.J Abdul Kalam College of Physiotherapy
Dr. Sharda / Dr. Neeraj Kumar
Member Seretory - College of Nursing
Mr. Eknath Gawade
Member Secretory - Center for Social Medicine
Dr. Sunil Thitame
Member Secretory - Centre for Biotechnology
Mr. Ganesh Vikhe
Member Informatoin Technology -
Manager IT
---
Preamble
To use inputs from students, parents, teachers and professionals for improvement in quality of teaching learning process, infrastructure and learning resources so as to produce competent health professionals.
Summary of feedback methodology:
Formats for feedback were finalized by members and were approved by University.
All forms were uploaded by IT department on TCS software.
Online feedback from respective batches was collected using students mobile/ desktop in internet section of library.
Collected feedback data was further tabulated, analyzed and interpreted by respective members
Report of constituent institutions were prepared in structured format and presented by respective coordinators in college council meetings. Actionable points related to infrastructure and learning resources were discussed and suggestions were taken.
Faculty with good score were congratulated by respective Principal/Director , and those with average score were confidentially counseled for improvement .
Reports signed by member and Principal/Director were submitted to University with Action taken report, which was forwarded to BOM for further necessary action.
Feedback questionnaires:
Feedback on infrastructure and learning resources.
Feedback on departmental teaching learning process.
Feedback on faculty members.
Feedback from out-going students on academic, facilities, support & services. (Exit feedback). Each question was carrying five options on Likert Scale viz poor, average, good, very good & excellent carrying marks of 1, 2, 3, 4 & 5 respectively. An additional open box of opinion/suggestion was placed at the end. Overall feedback given by the students is assessed by taking averages