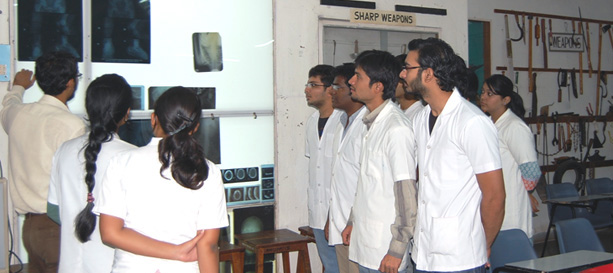 Rural Medical College - Department of Forensic Medicine & Toxicology
CME / CONFERENCES / SYMPOSIUM / WORKSHOPS CONDUCTED:
Symposium: "Legal Aspects of Medical Practice"
A symposium on "Legal Aspects of Medical Practice" was held on 04th April 2009 at RMC, Loni.
The inaugural function was presided by Hon'ble Dr. Ashok Patil, Ex-CEO, PMT, Loni. Chief Guest of the function was Hon'ble Dr. P. M. Jadhav, Member Ethical Committee, MCI. Other Hon'ble guests for the function were Hon'ble Dr. B. Sadananda, VC, PIMS, Loni, Dr. Shivananda Bhimalli, Member MCI & Dr. M. V. Garad – Director FSL, Mumbai.
Around 230 delegates and 80 Under-graduate students attended the symposium. Guest lecture by renowned forensic experts like Dr. RK Singh, Dr Ravindra Reddy, Dr R S Bangal, Dr S V Jogarao & Dr Ajay Patil were duly acknowledged by the delegates.
National symposium was organized on "Medical Documentation- Ethical, Legal and Social Aspects"
A National symposium was organized on "Medical Documentation- Ethical, Legal and Social Aspects" on 8th Aug 2010 at RMC, Loni under the aegis of PIMS (DU). Presiding over the function Hon'ble Lt Gen (Retd) Dr. B Sadananda, Vice Chancellor, PIMS (DU) highlighted the history & importance of medical documentation.
Hon'ble Justice Shri MG Gaikwad, Retd Judge High Court, Mumbai & President Revenue Tribunal, Mumbai shared his experiences in the light of various court judgments and complimented Dr. KD Chavan for organizing a symposium on a very important topic.
The hallmark of the inaugural ceremony was the felicitation of senior faculty members of Forensic Medicine like Dr. SA Sami, Dr. DP Sapre, Dr. HT Katade, Dr. VV Wase, Dr. SD Nanandkar.
These are the people who toiled hard all these years to give the subject the stature it has today. Three hundred and forty delegates from all over the country registered for the symposium.
STATE FORENSICON 2011:
The 15th Annual Conference of Medico Legal association of Maharashtra was held at Rural Medical College, Loni, Ahmendnagar on 20th and 21st Aug 2011.The theme of the conference is "Medicolegal Expertise – An Important Tool in Crime Investigation and Administration of Justice".
The conference was patronized by the Director General, Indian Council of Medical Research and Medical Council Dr PH Shingare, DMER, Addressing the Inaugural Function of India.
For Detailed Executive Summary of the Conference Click here....