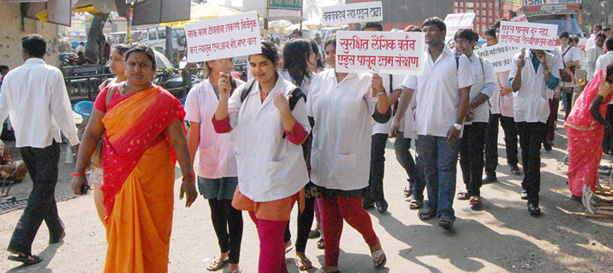 Rural Medical College - Department of Community Medicine (PSM)
Introduction :
Department of Community Medicine (PSM) was started in 1984 in Rural Medical College.
The department is involved in teaching, research and extension activities.
Goal:
To prepare students as competent first level physicians suited to cater need of community in Indian context.
Mission Statement:
Empowering the students with knowledge, skills & positive attitude to work as first level contact physicians.
To produce health professionals capable of providing integrated preventive, promotive & curative health services to the community. Keeping in mind Health Problem in Indian Context, National Health Policy and Programs.
To be able to appreciate sociopsychological, cultural, economic & environmental factors affecting health.
To sharpen the behavior change communication skills of young minds so that they can guide the services of fraternity on the tracks to positive health.
To strive for excellence in research aimed at developing appropriate technology / strategies for prevention and control of communicable & non-communicable diseases as per needs of the community.
To use principles of epidemiology & biostatistics as scientific tool to make rational decisions relevant ot community & individual patient intervetion.
Department Highlights:
The department is well equipped with the teaching learning resources as per the guidelines of Medical Council of India for undergraduate and postgraduate courses that are being conducted.
The department houses Museum for undergraduate training with specimens, charts, booklets, models etc. classified as per the sections in PSM. Dept. library contains 237 books and 564 journal / periodicals.
The audio-visual aids like slide projector, Over-head projector and computers are available in the department. and LCD projectors are made available centraly from ECMC department.
The department teaches the subject to various courses MD (PSM), MBBS, BDS, BPTh, BSc Nursing, P.B.B.Sc. Nursing, GNM & Dental Hygienist. Environmental Studies (EVS) is taught as additional subject in II MBBS as per guidelines of UGC and directives of Hon. Supreme Court of India.
Thrust areas of research :
Diabetes, TB, MCH, Environment
Strategies adopted for Medical Education:
Community oriented medical education
Student Research Projects
Visit to Public Health institutions
Involvement of students in public health days
Problem Based Learning
Department extensional activities :
Urban Training Health Centre at Pravaranagar
Rural Training Health Centre at Babhaleshwar
DMC cum DOTS Centre at Pravara Rural Hospital, Loni
Vikhe Patil Bal Vikas Kendra (Sakhar Shala) for children of migratary sugarcane harvesting workers
Services offered by the department:
Water analysis
Sakhar Shala for migratary sugarcane harvesting workers children
DMC cum DOTS Centre
Internship Training Program
Epidemic investigations
Family study
School Health Surveys
IEC Activities : Observing Public Health Days (World AIDS Day, World Health Day, World TB Day, Youth Day) Radio talks, Namaskar Doctor (Video Conferencing Program), Lectures in NSS camps, schools and colleges.
Future plan
Development of Outdoor Museum
Development of Public Health Laboratory
Starting new course like MPH for public health professional