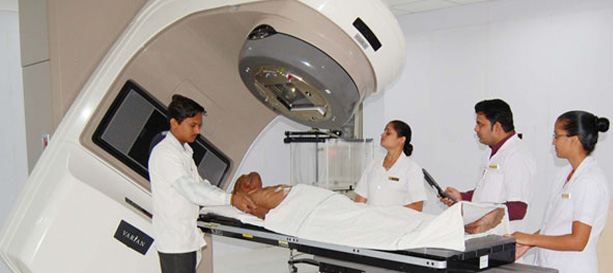 Dr. Balasaheb Vikhe Patil Rural Medical College - Department of Radiotherapy & Oncology
Introduction
It has been more than Fifteen years, the department of radiotherapy was started as a part of Dr. Vitthalrao Vikhe Patil Pravara Rural Hospital and Medical college in Aug. 1996. The department was inaugrated by Hon. Manohar Joshi, Chief Minister Maharashtra & visited Union Health Minister Hon. Shatrughna Sinha.
It is the only cancer center in Ahmednagar district. Patients from surrounding district like Pune, Nashik & Beed also avail treatment facility of this center due to low treatment cost, residential facility for patient and relative, nearness to home town and excellent patient care.
The department was started with
Theratron 780C Cobalt unit
for external radiotherapy treatment in August 1996. Brachytherapy facility was started with
Gammamed 12i HDR PDR remote
after loader unit, which is the first of its kind imported from Germany in India, in September 1997. Now our Brachytherapy unit is upgraded as Gammamed plus IX in July 2011.
Treatment planning system
was added in the department at the same time for the accurate radiation planning. Department has mould room facility, Day care ward as well as Indoor facility.
Brachy vision 3-D treatment planning system
is added recently in the department in November 2008.
Since beginning of the department thousands of patients have been treated by external radiotherapy, brachytherapy and chemotherapy. palliative care is offered to needy patients. Around 45-65 patients are treated daily on cobalt unit and 2-4 patients on brachytherapy unit. 3-6 patients are provided daycare for continence chemotherapy and around 20-35 patients are admitted in male and female wards for indoor care. Patients treatment is usually started on the same week they report, as there is no waiting list.
Mission Statement
The Department of Oncology is committed to provide the best possible treatment to cancer patients with a humane approach at a reasonable cost and patient satisfaction. Department is being a leader in patient care, education, teaching and research. We aim to provide accurate, timely and the highest quality of services so as to ensure the best possible patient management and care.
We constantly strive to impart excellence in education and training to undergraduate and postgraduate student so as to foster their intellectual development while nurturing their capacity to think skillfully and critically. Our endeavour is provide comprehensive services to rural society.
Teaching Program
Masters degree (M.D.) and Diploma (D.M.R.T.) in radiotherapy has been started since 2007. Various teaching programs for under graduates and post graduates of Medical, Physiotherapy and Nursing students are carried by the department. One student has awarded Ph.D in Medical Physics in April 2010.
Outreach Activities
Department is actively involved in various cancer detection camps organized by institute as well as in Tele-medicine teaching programs for awareness about cancer to rural community.
Thrust areas of research :
Community Oncology
Awareness and prevention of cancer
Screening and early detection of Cancer
Future Action plans
To develop center of excellence in phase wise.
Installation of Linear Accelerator with IMRT.
Installation of CT Simulator.
Upgrade Cancer Registry (To connect with ICMR, New Delhi)
To develop Mobile Screening Units.